Welcome to Ulfenkarn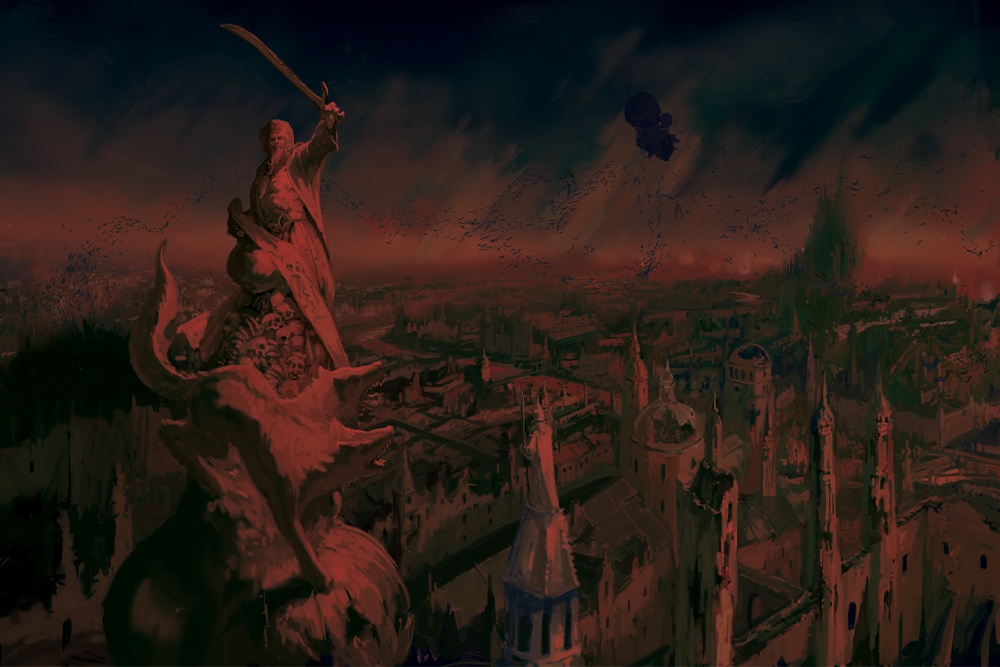 Radukar the Wolf saved the city in its darkest hour, but his benevolence didn't last. Claiming the Ebon Citadel, he surrounded himself with fiends, lackeys, and fellow creatures of the dark, forming his Thirsting Court. For a time peace reigned. Then came the Shyish Necroquake, and the Wolf found himself infused with dark power.
Sallying forth from his castle, Radukar and his court embarked on a murderous rampage. Some were deemed worthy of the Blood Kiss and were turned into vampires themselves – countless others were left as corpses strewn across the streets. The city now stands on the precipice of total doom. Are there any that would risk their lives and their very souls to save it?
What's in the Box?
The Contents

The Warhammer Quest: Cursed City boxed set contains everything you and your friends need to embark on epic quests within the city of Ulfenkarn, from 60 incredible new Citadel miniatures to rulebooks, cards, tokens, and more.

Agents of Defiance

Eight courageous heroes aim to bring salvation to Ulfenkarn. Each has their own unique weapons and abilities, and only by combining their powers can they hope to free the Cursed City from the Wolf.

Overlords of Ulfenkarn

These 42 models represent the malevolent villains of the Cursed City that you will have to defeat. They all offer a different set of challenges that must be overcome if you're going to save Ulfenkarn.

Terrain and Objective Markers

These markers represent places of interest or challenges that must be overcome. Be careful though, for while the objective markers may hide treasure, they could also be a deadly trap.

The Books

These tomes are packed with lore and background for Ulfenkarn, its villains, and the heroes who come to its rescue, along with all of the rules that you need to lead your epic quests.

Begin Your Quest

Grab your bravest friends, select your noble heroes, and march forth into Ulfenkarn. Do you have the skills to overcome the undead monstrosities and save the Cursed City?
Characters of the Cursed City
Jelsen Darrock
Qulathis the Exile
Emelda Braskov
Dagnai Holdenstock
Glaurio ven Alten III
Cleona Zeitengale
Octren Glimscry
Brutogg Corpse-Eater
Gorslav the Gravekeeper
Watch Captain Halgrim
Torgillius the Chamberlain
Vyrkos Blood-born
Radukar the Wolf
Jelsen Darrock

Jelsen Darrock is a one-man death squad with a merciless streak a mile wide. He was once a part of the Order of Azyr, a well-known and fearsome hunter of witches, aethergheists, and cultists of the Dark Gods, though his conduct saw him expelled. The exact reason remains a guarded secret.

'"As mean as Darrock," they used to say, back in the Order. Trust me, boy, they don't know the half of it. Morals are for the weak.'

Qulathis the Exile

Qulathis has vowed to hunt the vampire that slaughtered her kin, despite being forbidden to do so by her clan's elders. Taking an arm-thick splinter of the Oak of Ages Past, she has created a quiver of magical arrows with which to gain her vengeance.

'You are not my people. I have no kin. In place of cowardice, I chose exile and disgrace. Yet if my aim is true, I may still earn revenge, and perhaps even an iota of atonement.'

Emelda Braskov

After her army was destroyed by Radukar the Wolf, Emelda turned her grief and shock into a cold inner steel. She has vowed to slay the vampire at the heart of her beloved city – or die in the attempt.

'This is my city. I fought for it outside the walls, and by Sigmar's blood I'll fight for it inside, even if I have to drive my sword right through its black and corrupted heart.'

Dagnai Holdenstock

The Trade-Commodore is known as a veteran entrepreneur with a knack for creative interpretation of the Kharadron Code. Seeing Ulfenkarn as a potential treasure trove, he searches the streets for the riches he so desperately desires.

'Keep her steady, lads, we'll be back before nightfall. And if any of those winged flitlings come for you, club 'em with your gunstocks. Aethershot's expensive stuff, you know.'

Glaurio ven Alten III

The brash young duellist is the last surviving member of the once-proud ven Alten dynasty. He now seeks to avenge his family's lost honour, starting with slaying his three cousins who each willingly received the Blood Kiss. It's time that all of those countless hours of training in swordsmanship are finally put to good use.

'The ven Altens got us into this, and the ven Altens will get us out. After you, my dear.'

Cleona Zeitengale

A missionary of the Cult of the Comet, Cleona tried to warn the city of the cataclysm to come, but her warnings fell on deaf ears. Now, as the last of her order to survive, she summons the power of Sigmar to clear the streets of the vampiric scions of Nagash.

'It's written right there in True Azyrite. "The mortis pull, the sinking sands, the broken clock strikes twelve." What part of that don't you understand?'

Octren Glimscry

Octren has spent many years in the Realm of Death, experimenting with the mortality-manipulating realmstone known as grave-sand. He once worked alongside Torgillius the Chamberlain, but he now seeks to end his former colleague's experiments and free the city from its curse.

'Do not seek to dabble in my affairs, child. Every time you partake of Shyish's energy, it takes a part of you in return, and I am happy to do the work on its behalf.'

Brutogg Corpse-Eater

This ogor mercenary has acquired a taste for long-dead flesh and will happily eat skeletons, rotting zombies, and even mummified cadavers. He comes to Ulfenkarn not just to get his fill of these delicacies but also to prove he is the strongest ogor in all of Shyish.

'I ate one of them gheists once. Waste of time, don't fink I'll bovver next time. Oi, grab that dead vulture out of the gutter, would yer?'
Gorslav the Gravekeeper

This gaunt and towering creature tends the crypts and charnel pits of the Ulfenkarn corpse-gardens. Silently, he toils away in his unhallowed domain, ignoring the screaming terror of his victims as he buries them alive beneath mounds of cold grave-soil.

'When ye hear the scrape, scrape, scraping of Old Gorslav on his walk,
The only sound he ever makes, for he ain't one for talk,
Flee then, fool, and hide away, and hope he don't come take,
And bind your arms and drag ye off to bury ye awake.'

Watch Captain Halgrim

During the purge of the city, the traitorous Watch Captain Oleksandr Halgrim was swift to swear himself and his warriors to the usurper's cause, rounding up many of the noble scions of the city in the Mournhold dungeons.

After his fellow officers killed him for betraying his oaths to the city, necromancers raised the Watch Captain as a Deathrattle to lead the city's Ulfenwatch. Now, little more than a rotting automaton, he follows every word of his new master's command.

Torgillius the Chamberlain

Dwelling in the ancient scholar's hall of Barrowmark – which he has transformed into a charnel house and laboratory for his depraved, necromantic experiments – Torgillius sees and hears all. Though he prefers to dispatch lesser beings to carry out his will, when necessity demands it the chamberlain unleashes the full, withering might of his dark magic.

'I believe I am on the verge of a breakthrough. Bring me more subjects. And no more half-starved weaklings – the last batch didn't even last the night.'

Vyrkos Blood-born

When Radukar embarked upon his great purge, few members of the noble houses were spared. In return for an oath of loyalty, some were offered the Blood Kiss and became part of his Thirsting Court.

Transformed into half-feral creatures, these princelings and duchesses now serve the Wolf's will. They hunt down and assassinate any who question his dominance, and stalk the death-shrouded streets of Ulfenkarn in search of prey to torment and consume.

Radukar the Wolf

Radukar is the tyrannical master of Ulfenkarn, a vampire of ancient power and cunning whose ambition is matched only by his savage cruelty. The Blood Kiss gave him terrifying strength and eternal life, but also inflicted upon him an animalistic and almost uncontrollable blood-rage.

'In life I would have cut down all of you in the span of a single breath, and picked my teeth clean with your bones. Can you imagine what I will do to you now?'
Learn to Play
Enter the Cursed City
Grab your friends and get ready to liberate the Cursed City in exciting multiplayer cooperative quests. Can you overcome zombie hordes, bat swarms, giant rats, and worse to emerge as true heroes?
Cursed City Newsletter
Learn all of the latest gossip, straight from the zombie-filled, rat-infested streets of Ulfenkarn in our regular newsletter.
Keep up to Date
Stay on top of the latest Cursed City news by following our Facebook, Instagram, Twitter and Youtube social media accounts.
Visit the Warhammer Community website to learn more about Cursed City and all of the worlds of Warhammer.
Back to top